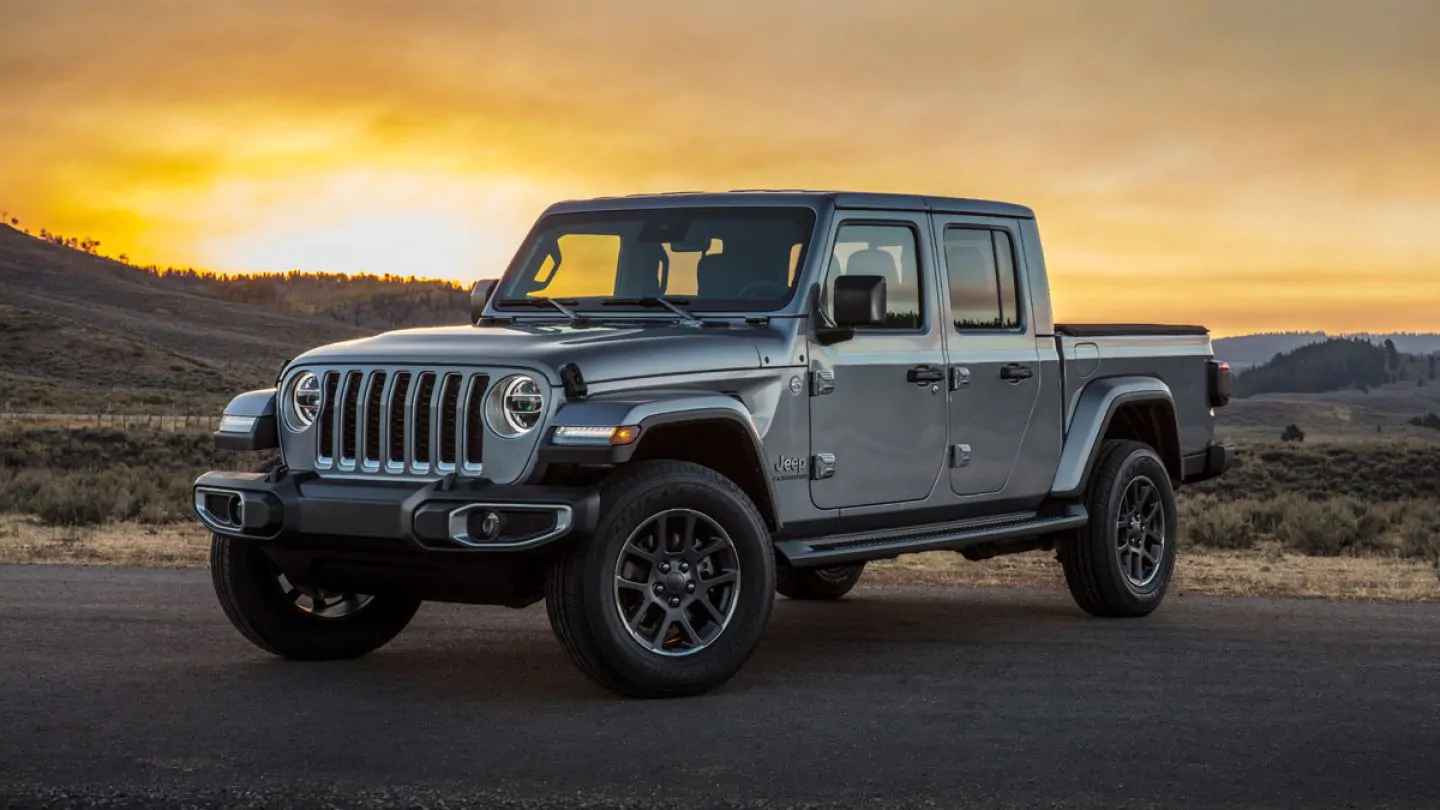 The 2020 Jeep Gladiator was first showed off at auto shows throughout the country, with people in awe at its unique design, the roar of its engine, and its off-road prowess! After much anticipation, and a hiatus from the Jeep lineup, we here at Kasper Chrysler Dodge Jeep are happy to announce the return of the Jeep Gladiator and wish to tell you that this all-new midsize pickup truck will soon be yours to own here in Sandusky, OH! While the truck will be arriving en masse later this year, we here in Sandusky invite you to pre-order a brand-new Jeep Gladiator Rubicon through Jeep today! Once you order, you can have it shipped out to our dealership whether you live nearby in Sandusky or out in Amherst! Pre-Order yours today and come pick it up today here at Kasper Chrysler Dodge Jeep, we are located less than a half hour outside of Norwalk!
You might have seen the Jeep Gladiator on television or in the news, as this midsize truck will feature a unique design of its very own, modeled in the image of the jeep Wrangler and designed with the exact same open-air design and feel, allowing you to retract the roof, take out the doors and even the windshield, if you so choose for hitting the trails. The 2020 Jeep Gladiator will feature two available 4X4 systems to make off-roading performance easy and a while lot of fun: the most advanced of these 4X4 systems is the Rock-Trac system which is standard on the Rubicon and features an electronic disconnecting sway bar, allowing you to let the front wheels drop and compress at will to help prevent and slipping or skidding on the rockier trails ahead. This available 4X4 system also features locking front and rear locking differentials to ensure that the wheels spin properly and at the same time, thus, also preventing excess slippage. The Jeep Gladiator is designed to be off-road capable and allows for up to 30 inches of water fording, making it an excellent choice for exploring the riverbeds along the Vermilion River.
A Jeep Truck in the Top of Its Class!
How does the new Gladiator accomplish such performance underneath its hood? Well, like all new Jeep SUVs, this midsize truck has a lot to offer where it counts and features a 3.67-liter Pentastar V6 engine which delivers 285 horsepower and 260 pound-feet of engine torque to help power the wheels. This engine comes paired with your choice of a six-speed manual transmission or an eight-speed automatic transmission, the latter of which features the signature Selec-Speed Control stick which manages the vehicle speed on off-road terrain without requiring throttle or brake input. The engine, frame, and available 4X4 systems allow the 2020 Gladiator to tow up to 7,650 pounds with a carrying payload of 1,600 pounds, the best payload and towing capacity of any other truck in its class!
Access Your Tunes as You Drive!
In the Jeep Gladiator Rubicon, you will find the most enjoyable technologies both on the inside and out. All trim levels feature Apple CarPlay™ and Android Auto™, allowing you to seamlessly plug in your smartphone and access your apps on the drive to Lorain. However, the Rubicon offers an 8.4-inch Uconnect NAV system as well with built-in guided navigation, live traffic, and voice-recognition technology!
Pre-Order Yours Today!
The 2020 Jeep Gladiator is here and promises to take the midsize truck class by storm and truly dominate over its competition, the way a true gladiator would! Pre-Order yours today through the Jeep website and be sure to select our dealership as your preferred delivery address. Your order will be sent to us along with your contact information so that you may be alerted by our sales team when your order arrives, and you can head on over to us at Kasper Chrysler Dodge Jeep to check out your new Jeep Gladiator and start financing this outstanding new adventure machine! Our dealership is located at 2206 Cleveland Road in Sandusky, OH and we look forward to meeting you!