Looking for a great used car? Look no further than Kasper Chrysler Dodge Jeep RAM in Sandusky. We want you to feel completely confident when shopping for your next used car. All used cars are not created equal, which is why we want to give you every resource you need to choose your next vehicle. To provide complete transparency, we've outlined our process of selecting vehicles for our inventory and how we get it ready for the front line of our dealership.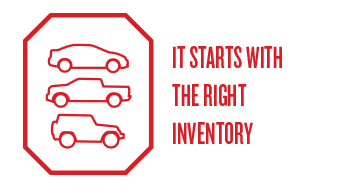 The majority of our inventory is sourced from trade-ins from our loyal customers. With 3 dealerships within the Kasper Auto Group, we have access to thousands of cars, trucks, vans, and SUV's to choose from for our used car inventory. We also purchase vehicles from local Sandusky residents. Only select vehicles make the cut to be a part of our used car inventory.

After we've determined a vehicle is a good fit for our inventory, our multipoint inspection starts with one of our highly-trained technicians rigorously testing a vehicle top to bottom, front to back, inside and out to ensure the vehicle is safe, in proper condition, and ready for the road.

VISUAL: We inspect the engine, tires, lights, safety features, and condition of the vehicle's exterior and interior.
MECHANICAL: We also perform a complete mechanical inspection that covers every aspect of a vehicle's well-being - inside and out.
ROAD TEST: We do a thorough road test to check the ease of starting the vehicle, the ride quality, and performance.
KEY AREAS CHECKED:
Tires - Ensure the front and rear tires on the vehicle have at least a 4/32 thread depth
Brakes - Front and rear brakes will have at least 50% material life remaining
Fluids - Check the cleanliness of the various fluids and top off any that need filling
Shocks/Struts - Make sure the shocks and struts are not noisy, leaking, or loose
Battery - Perform a performance analysis and check the cables and connections
Filters - Inspect the air filter, cabin filter, oil filter, and more to ensure they are clean and functioning properly
Exhaust System - Check the condition of the exhaust system, ensure it will pass an e check, and does not have any leaks
Hoses and Belts - Ensure they are in good condition and replace any that are worn or broken



These are only a handful of items on our 150+ point inspection.

We check the CARFAX vehicle history of every vehicle we take on trade-in for issues. We also provide a free CARFAX history report on every vehicle we sell. Every CARFAX Vehicle History Report checks for:
Vehicle registration
Title information (including salvaged
or junked titles)
Odometer readings
Accident history
Service and repair information
Accident indicators (such as airbag deployment)
Frame/structural damage

After making sure the vehicle is sound inside and out, we send it off to our detail department to give it that showroom shine.
Exterior wash and wax including door jambs
Touch up/recondition minor surface scratches
Clean the engine compartment
Clean all interior surfaces
Vacuum and/or shampoo all the interior carpets

Finally, every new and used vehicle we sell comes with a free lifetime powertrain warranty that lasts as long as you own the vehicle. There is no maximum mileage, no deductibles, and no gimmicks. Warranty Forever pays 100% parts and labor costs anywhere in the USA!
LEARN MORE
So, shop Kasper Chrysler Dodge Jeep RAM's used car inventory today and see the difference between a used car, and a quality used car from Kasper.